YuMove Advance 360 Rx
Usually ships within one business day with veterinary approval.

Requires veterinary authorization.

Your pet's veterinarian will provide directions for use.

Large Dogs 66-100lbs 2 per day for the first 4-6 weeks; 1 per day ongoing
Extra Large Dogs Over 100lbs 3 per day for the first 4-6 weeks; 1.5 per day ongoing
YuMove Advance 360 for Dogs. Veterinary Hip and Joint Supplement.
YuMove Advance 360 is a veterinary joint formula developed for dogs with advanced hip and joint conditions. YuMove Advance 360 may help promote mobility, aid inflammatory processes, and support healthy joint structure. It also works to soothe stiff joints and may benefit dogs with osteoarthritis. YuMove Advance 360 features a unique combination of ActivEase® Green Lipped Mussel extract and purified fish oil to provide a highly concentrated source of Omega 3 essential fatty acids. It also contains glucosamine and N-Acetyl-D-glucosamine, which encourage healthy joint structure and help supply the building blocks of cartilage. It includes manganese to help support collagen formation in the cartilage, tendons, and ligaments. It also includes Hyaluronic Acid for joint lubrication and cushioning, as well as the antioxidants Vitamin C and Vitamin E to neutralize free radicals. YuMove Advance 360 may help improve mobility within 6 weeks. Available in 4 sizes for small dogs under 35lbs, medium 36-65lbs, large 66-100lbs, and extra large dogs over 100lbs.
Ingredients:
Glucosamine HCl
ActivEase® Green Lipped Mussel
Purified Fish Oil
Purified Fish Oil powder (source of Omega 3 and EPA)
Vitamin C
N-Acetyl D-glucosamine
Vitamin E
Manganese
Hyaluronic Acid
Natural Antioxidant
Omega 3 & Eicosapentaenoic Acid (EPA)
Inactive Ingredients: Calcium carbonate, citric acid, hickory flavour, lecithin, molasses, potato flour, potato starch, rice flour, tocopherols extract (antioxidant), vegetable oil, yeast.
Directions for Use: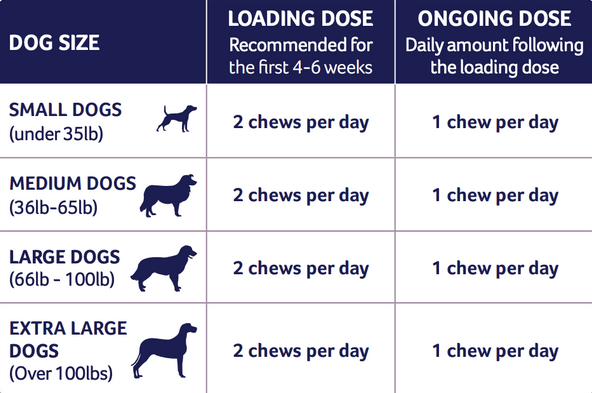 Review Summary
2 total reviews
Rated 4.50 out of 5 stars
100% of respondents would recommend this to a friend
Ratings Distribution
Reviews
This medication made all the difference in my pet

From Undisclosed

Comments about YuMove Advance 360 for Small Dogs under 35 lbs, 70 Soft Chews

I would buy this again

From Ohio

Comments about YuMove Advance 360
Displaying Reviews 1 - 2
Q & A
Is YuMove Advanced 360 available in a tablet form? My dog doesn't like the soft chews.?

Currently, the manufacturer only makes YuMove Advance 360 soft chews. Please consult your veterinarian if you have further questions or concerns about this product.

Verified Answer

Can the chews be given 2 chews twice a day for first 6 weeks, then followed by 1 chew daily?

According to the manufacturer's directions for YuMove Advanced 360: a loading dose is recommended for the first 4-6 weeks, give 2 chews per day. An ongoing dose, or daily amount following the loading dose, is 1 chew per day.

Verified Answer

The label on the chews will show you that the chews should be given at a higher dose to start with, 2 chews per day for the first 4-6 weeks.

Community Answer

The chews should be given at a higher dose to start with, 2 chews per day for the first 4-6 weeks. The label on the chews will show you this

Community Answer
Displaying Questions 1 - 2