Saturday, April 4th Update:
VetRxDirect has increased our operational hours and staff, and we're meeting demand.
Protocols are in place to make sure your pets' medications are shipped safely and quickly.
We estimate our average time-in-transit* to be 2.35 days.
What can we do to help you and your pet during this trying time? Please send us a text or leave us a chat messages.
You are viewing:
Ulticare VetRx U-100 Insulin Syringes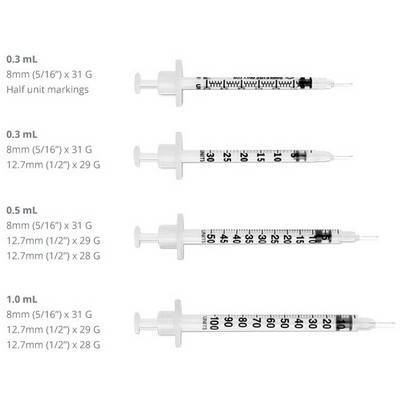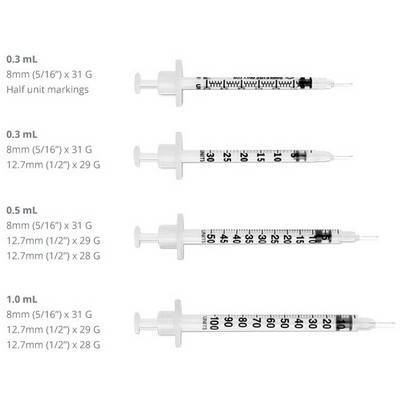 In Stock FREE Shipping Eligible
U-100 insulin syringes for Dogs and Cats

U-100 insulin syringes are used to give insulin to dogs and cats. These specific syringes are meant for the insulins with a concentration of 100 units per mL, and differ from the U-40 syringes meant for the insulins with a concentration of 40 units/mL. The insulins sold by VetRxDirect compatible with the U-100 insulin syringes include Lantus, Novolin, and Humulin N. Within the U-100 syringes, there are different volumes in which they hold. There is a ½ cc size, and a 3/10 cc size. The ½ cc holds 50 units in each syringe, whereas the 3/10 cc syringe holds 30 units. To choose between the two different sizes, it is important to factor how much insulin is given in each dose, and choose the smallest size able to incorporate the full dose in one syringe. Since these syringes come with the insulin needles, you must also choose the product based on the gauge and length of the needle. This should be determined by your pet's veterinarian. Finally, there is an added bonus with the products labeled sharps container. The syringes come inside of the sharps container, which can be used for disposing of the used syringes and needles. These products eliminate the extra costs and hassle of buying an additional sharps container to dispose of the syringes and needles.