Saturday, April 4th Update:
VetRxDirect has increased our operational hours and staff, and we're meeting demand.
Protocols are in place to make sure your pets' medications are shipped safely and quickly.
We estimate our average time-in-transit* to be 2.35 days.
What can we do to help you and your pet during this trying time? Please send us a text or leave us a chat messages.
You are viewing:
Revolution PLUS (selamectin + sarolaner) for Cats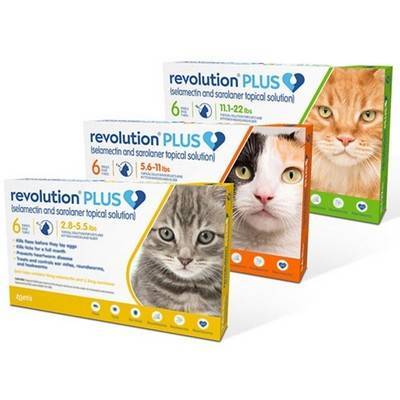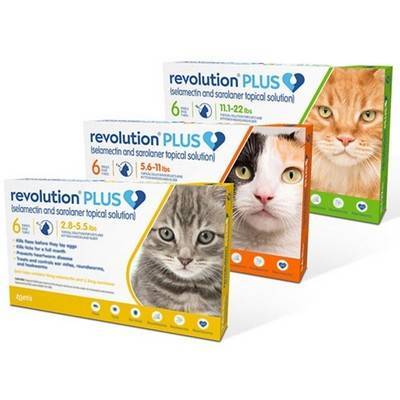 In Stock FREE Shipping Eligible
Revolution Plus for Cats
Revolution Plus is a broad spectrum, prescription parasite medication for cats and kittens. It contains two active ingredients, selamectin and sarolaner, which protect cats from 6 different internal and external parasites for 1 month. Revolution Plus prevents heartworm disease in cats by killing immature heartworm larvae. It treats and controls flea and tick infestations infestations by killing adult fleas, flea eggs, black-legged ticks (deer tick), american dog ticks, and gulf coast ticks. It treats and controls intestinal parasite infections by killing hookworms and roundworms. Revolutions Plus is also effective against ear mites. This medication is easy to apply and has a quick drying, small liquid dose applied monthly. For cats and kittens 8 weeks of age and older weighing 2.8 lbs and greater. Available in three separate dose strengths for cats of different weights 2.8- 5.5 lbs, 5.6- 11 lbs, 11.1- 22 lbs.
Read and follow the prescription label carefully for storage information, possible side effects, and drug interactions.
Give the exact amount prescribed and only as often as directed.
Do not skip doses or stop giving the medication without consulting your veterinarian.
For additional information, click the "Package Insert" and "More Information" tabs