Oralade
Guaranteed lowest authorized price. Learn more.

Manufacturer Authorized Retailer

Guaranteed lowest authorized price. Learn more.

Manufacturer Authorized Retailer

Usually ships the same weekday before 3pm CT.

Consult your veterinarian for intermittent or supplemental feeding use.
What is Oralade for Dogs and Cats?
Oralade is a ready-to-use, liquid formula for cats and dogs that includes balanced electrolytes, nutrients, amino acids, and glucose in purified water.
Formulated by veterinarians and nutritionists, Oralade supports dogs and cats with critical nutritional and hydration needs.
Oralade GI is descigned to be a supplemental food to help dogs and cats during periods of gastrointestinal distress.
Oralade GI may help in the recovery of surgery, diarrhea, and acute gastrointestinal disorders.
Oralade RF is designed as a supplemental food to help cats during periods of recovery or support cats with intestinal, urinary, or kidney disorders.
Oralade RF supports cats with special renal and hydration needs.
Why is Oralade used for Dogs and Cats?
Oralade delivers effective hydration by helping maintain fluid and electrolyte levels.
Oralade is designed to be very palatable, even for dogs and cats that are suffering from nausea, poor appetite, or digestive upset.
Both Oralade GI and Oraldade RF have a low fat and protein content, as well as a low phosphorus content, making them suitable for animals with kidney conditions.
Oralade GI
Oralade GI is made to be highly digestible, with easily absorbed nutrition and prebiotic fiber that promotes microflora for gut health.
Oralade RF Renal Fluid
Oralade RF especially may help increase fluid intake for cats with chronic kidney disease, flush waste materials, and encourage dilute urine for cats with urinary problems.
Oralade RF is designed to be very palatable even for cats that are picky. It can also be used to encourage cats to eat more of their regular diet and can be mixed in both dry and canned foods.
What else should I know about Oralade Support?
Oralade contains balanced electrolytes, including sodium and potassium, and its isotonic formula enables quick fluid absorption and rehydration.
Oralade contains simple, easily digestible sugars that provide ready-to-use energy.
Oralade also includes essential and functional amino acids glutamate, glycine, L-Arginine, L-Lysine, and L-Carnitine.
Oralade is also made with taurine to help support heart and vision health.
Oralade does not contain citrates, chlorinated water, or bitter-tasting preservatives.
Oralade's hypoallergenic flavor is made with 100% natural hydrolyzed chicken liver.
It is suitable for all breeds and ages of cats and dogs.
Oralade can be frozen for 12 months for reuse.
What problems could by dog or cat have with Oralade Support?
Talk with your veterinarian before using Oralade, and follow their specific recommendations.
What is in Oralade?
Oralade GI Support
Ingredients: Purified water, Dextrose monohydrate, natural chicken flavor, Sodium chloride, Potassium chloride, Monosodium phosphate, Xanthan gum, glycine, monosodium glutamate, L-glutamic acid, inulin, natural flavoring.
Guaranteed analysis: Crude Protein 1%, Crude Fat 0.1%, Crude Fibre0.3%, Moisture 96%, Inorganic Matter 0.5%,Potassium 0.08%, Sodium 0.14%, Chloride0.20%. Phosphorous 0.027%, Calcium 0.006%. Xanthan Gum 0.12%, L-Glutamic Acid 0.19%,Glycine 0.4%, Galacto-oligosaccharide 0.1%, Natural Flavouring.
Oralade RF Renal Fluid
Ingredients: Purified water, Dextrose monohydrate, Sodium Chloride, Potassium Chloride, Monosodium phosphate, Chicken liver hydrolysate, xanathan gum, Glycine, Arginine, Lysine, Taurine, L-Carnitine, Monosodium glutamate.
Guaranteed Analysis: Crude Protein 1.0%, Crude Fat <0.4% Crude Fibre 0.1%,Moisture 98%, Ash 0.3%,Potassium 0.04%, Sodium 0.1%,Chloride 0.16% Calcium 0.005%,Phosphorus 0.003% Na 44mmol/L,K 12mmol/L, CL 45mmol/L,Ca 1.5mmol/L, P 11mmol/L, Xanthan Gum 0.2%, RoastChicken Flavour 0.1%, AminoAcids: Glycine 0.45%, Taurine0.08%, L-Carnitine 0.01%,Lysine 0.15%, Arginine 0.15%, Monosodium Glutamate 0.25%
How do I use Oralade Support?
Refrigerate once opened.
Use within 3 days once opened or freeze and use within 12 months.
Store in cool dry conditions, keep out of direct sunlight.
Oralade GI Support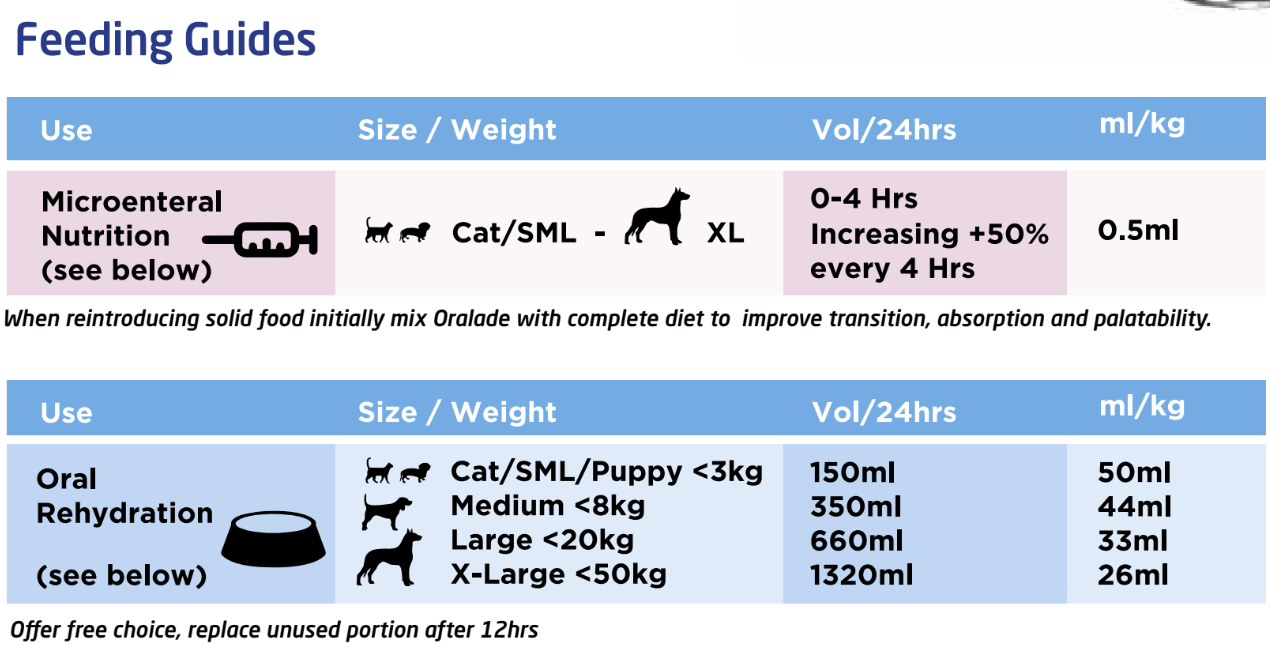 Oralade RF Renal Fluid

Review Summary
8 total reviews
Rated 4.88 out of 5 stars
100% of respondents would recommend this to a friend
Ratings Distribution
7 5 star reviews
1 4 star reviews
0 3 star reviews
0 2 star reviews
0 1 star reviews
Reviews
Cats love it

From Undisclosed

Comments about Oralade +RF Support for Cats, 330mL Bottle

Happy cats

More fluids for my CKD kitty

From Undisclosed

Comments about Oralade +RF Support for Cats, 330mL Bottle

Vani bear in a box

Using Oralade for 3 years

From Quilcen, WA

Comments about Oralade

Very helpful

From Mansarover Garden

Comments about Oralade

The supplement Oralade has helped my cat

From Visalia, Ca

Comments about Oralade +RF Support for Cats Special, (330mL + 150mL Bottle)

Bobby with the grandkids

Oralade has been wonderful for my 19 year old Bobby

From Undisclosed

Comments about Oralade +RF Support for Cats Special, (330mL + 150mL Bottle)

Bobby at his 19th year old Birthday Party😊

Staying hydrated this summer!

From Undisclosed

Comments about Oralade

With VetRxDirect we can relax, knowing we're in good hands.

Great product!

From Dallas, Texas

Comments about Oralade
Displaying Reviews 1 - 8
Q & A
Can I give this to my dog with CKD??

According to the manufacturer, Oralade is safe to use with acute or chronic kidney problems. Please consult your veterinarian before making any changes to your dog's diet to determine if Oralade would be recommended for your pet.

Verified Answer

My CKD kitty has continual problems with his sodium and chloride/chlorine spiking. Is this product low in sodium and chlorine? I need to encourage him to drink but can't give him products that contain these. Thanks?

According to the manufacturer, Oralada RF Support contains 0.1% sodium and 0.16% chloride. However, they could not provide any information on whether or not the amount of sodium and chloride is considered "low". Compared to Oralade GI Support, which contains sodium 0.14% and chloride 0.20%, Oralade RF does contain lower amounts of sodium and chloride. The manufacturer recommends reaching out to your veterinarian for recommendations on products that are appropriate for your pet and what doses they should be given.

Verified Answer

how many calories in oralade?

The feline renal support formula Oralade contains approximately 39 Calories for an 11 fluid ounce bottle and 120 Calories of metabolizable energy per kilogram. The GI support Oralade contains approximately 66 Calories for a 16 fluid ounce bottle and 140 Calories of metabolizable energy per kilogram.

Verified Answer

Does the unused portion require refrigeration??

Yes, the Oralade manufacturer suggests refrigerating or freezing the product after opening. It is recommended to use Oralade within 3 days of opening if refrigerated and within 12 months if frozen.

Verified Answer

Can someone please help me with? Oralade rf Support renal fluid support, oral hydration and simple nutrition, I do not understand the dosing chart, I do not know how much to give my cat, she is 16 years old, and 11 pounds, with tumors on her kidneys , and she is dehydrated, can you please explain to me, how much I need to do give her? For her to be successfully hydrated please and thank you.?

Oralade RF Support is a liquid hydration supplement designed to support oral fluid intake for cats with kidney conditions. It is recommended to consult with your veterinarian before using this product and follow their specific instructions for use. Oralade can be offered free choice in a bowl, or syringe fed to provide hydration. The manufacturer provides feeding directions for both methods, however your veterinarian can provide the best recommendation for your cat's needs. Oralade is not intended to replace your cat's drinking water, which should be offered at all times. According to the manufacturer directions for free feeding, cats can be provided 50 ml to start and continue up to 245ml per day. The manufacturer states there are no restrictions much a cat can take if they are drinking with ease. If the cat is having problems drinking then you can manage with a feeding tube/syringe as directed by your veterinarian.

Verified Answer

What is the difference between Oralade GI and Oralade RF. Thank you, Mirna?

Oralade RF is labeled for cats during periods of recovery, or support with intestinal, urinary, or kidney disorders. It may help increase fluid intake for cats with chronic kidney disease, flush waste materials, and encourage dilute urine for cats with urinary problems. Oralade RF Support contains balanced electrolytes, simple sugars, low fat, low protein, and low phosphorus content. Oralade GI is labeled to support both dogs and cats during periods of gastrointestinal distress and may help in the recovery of surgery, diarrhea, and acute gastrointestinal disorders. It may provide critical nutritional and hydration needs. It contains highly digestible and palatable ingredients and prebiotic fiber.

Verified Answer
Displaying Questions 1 - 6