Saturday, April 4th Update:
VetRxDirect has increased our operational hours and staff, and we're meeting demand.
Protocols are in place to make sure your pets' medications are shipped safely and quickly.
We estimate our average time-in-transit* to be 2.35 days.
What can we do to help you and your pet during this trying time? Please send us a text or leave us a chat messages.
You are viewing:
NexGard Chewables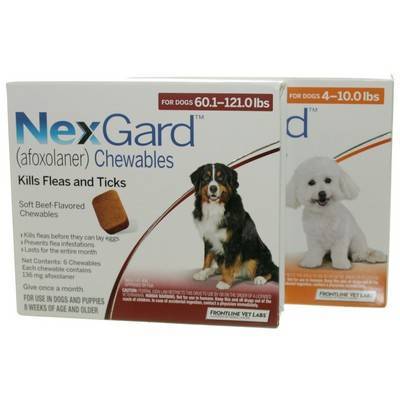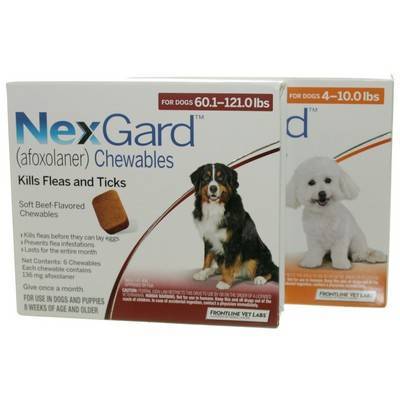 In Stock FREE Shipping Eligible
NexGard Chewables for Dogs
NexGard is a prescription, chewable flea and tick preventative for dogs contains afoxolaner. It works by safely absorbing into the dog's bloodstream to kill adult fleas and ticks by inhibiting the nervous system of the insect through over-stimulation. NexGard is formulated to give protection for 30 days and is easy to give with a soft, beef-flavored chew that dogs enjoy. Dogs can also be bathed or go swimming at any time because it is given orally and does not create a residue on the skin or hair coat. It is also designed for safe administration alongside heartworm and other medications. NexGard can be given to dogs 8 weeks of age and older and weighing 4 pounds or greater. Flexible dosing available for all types and sizes of dogs weighing from 4-10 lbs, 10-24 lbs, 24-60 lbs, and 60-121 lbs. Consult with your dog's veterinarian before using this medication and follow their specific recommendations.
Kills adult fleas and ticks
Prevents infestation
Provides 30 days of protection
No messy application
Beef flavored soft chew dogs love
Flexible dosing for dogs of all sizes
Important information about NexGard Chewables for Dogs:
Read and follow the prescription label carefully for storage information, possible side effects, and drug interactions.
Give the exact amount prescribed and only as often as directed.
Do not skip doses or stop giving the medication without consulting your veterinarian.
For additional information, click the "More Info" and "Package Insert" tabs listed above.