Blue Natural Veterinary Diet - KM (Kidney and Mobility Support) For Cats
Blue Buffalo KM is a prescription diet for cats formulated to help manage kidney disease and joint health in cats. It contains controlled levels of protein, phosphorus, and sodium to help manage kidney workload and renal function. It also helps support urinary health, to help balance urine pH and limit the formation of calcium oxalate stones. Blue Natural KM also contains glucosamine, chondroitin, and omega 3 fatty acids to help support mobility in cats with degenerative joint disease. It provides balanced nutrition for cats and contains additional antioxidants. This diet does not contain grains, by-product meals, artificial preservatives, colors or flavors. Blue Natural KM is only available with a veterinarian's prescription. Available in dry and wet food.
Read the prescription label carefully for your veterinarian's recommended feeding guidelines.
For additional information, click the "More Info" and "Package Insert" tabs listed above.
Blue Natural KM Kidney and Mobility Support Cat Food (Dry Formula)
Feeding Instructions: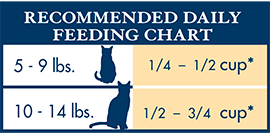 *Use a standard 8-oz. measuring cup
Transition Instructions: With veterinarian approval, cats should be gradually transitioned from their old food to BLUE Natural Veterinary Diet. Start by mixing 25% of BLUE with the cat's old food, and gradually increase the proportion of BLUE over the next 14 days
Blue Natural KM Kidney and Mobility Support Cat Food (Canned Formula)
Feeding Instructions:

Refrigerate unused portion.