Saturday, April 4th Update:
VetRxDirect has increased our operational hours and staff, and we're meeting demand.
Protocols are in place to make sure your pets' medications are shipped safely and quickly.
We estimate our average time-in-transit* to be 2.35 days.
What can we do to help you and your pet during this trying time? Please send us a text or leave us a chat messages.
You are viewing:
Laxatone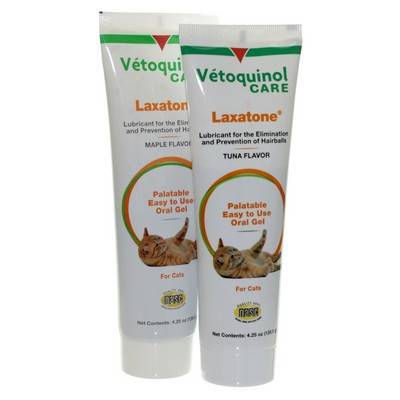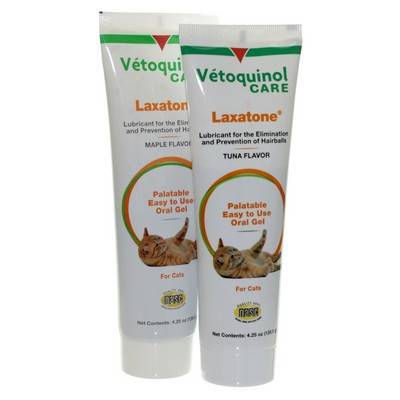 In Stock FREE Shipping Eligible
Laxatone for Hairballs in Cats
Hairballs are a fact of life when you have a cat. Laxatone is a gentle but effective lubricant that moves hairballs through your cat's system quickly. Laxatone is the #1 selling hairball remover, trusted by pet owners worldwide for more than 25 years.
Lubricates the digestive tract to eliminate and prevent hairballs
Tasty gel formula for easy administration
Two flavors – catnip or tuna
Veterinarians recommend Laxatone hairball remedy for cats that are prone to trouble with hairballs. When cats groom themselves, they ingest their fur, which creates hairballs that can clog the intestine and cause vomiting. Laxatone combines petrolatum and mineral oil, two gentle and effective lubricants, to prevent the development of hairballs and to move existing hairballs through your cat's system quickly and safely.
What you should know about Laxatone:
Talk to your veterinarian before using this product.
Follow dosing directions exactly - don't give your cat more medication than directed and don't skip doses.
Read the label carefully for information about storage, possible side effects, and drug interactions.
For additional information about Laxatone, click the "More Information" and "Package Insert" tabs above.