I-Lid 'N Lash Vet
Usually ships within one business day.
I-LID 'N LASH VET for Dogs and Cats
I-LID 'N LASH is an eye hygiene product for both cats and dogs to prevent tear stains and facial fold odors. It can be used as part of your pet's daily routine to maintain proper hygiene around areas of the eyes and face. I-LID 'N LASH can help prevent new tear staining from occurring or odor from developing. It also helps remove debris and crusts from around the eyes. I-LID 'N LASH works to prevent tear stains, and allows for new fur to grow in clean and stain-free within 7-10 days. Pre-existing fur stains will be lessened, but will not be removed. Both the wipes and liquid pump are effective and easy to use and do not require rinsing. I-LID 'N LASH VET will not harm the animal if ingested. It can be used on tear stains near your pet's mouth and paws and it does not cause issues if it gets into your pet's eye. It does not burn or sting and does not contain harsh chemicals or antibiotics. Available as convenient, pre-soaked wipes or economical liquid pump.
Helps prevent tear stains & facial odors
Removes ocular debris
Does not burn or sting
Does not contain antibiotics or bleach
Hydrating eyelid & eyelash cleanser
What you should know about I-Lid 'N Lash Vet
Directions:
Do not use if your pet has broken or abraded skin.
Gently wipe eyelids and surrounding areas away from eyelids and lid margins. This will help loosen and remove any debris that may have gathered in your pet's eyes.
Wipe stained fur or beneath facial folds to reduce tear stains and odors.
The best results are obtained if the product is applied and not rinsed off.
For the best results, it is recommended to shave off existing stained fur.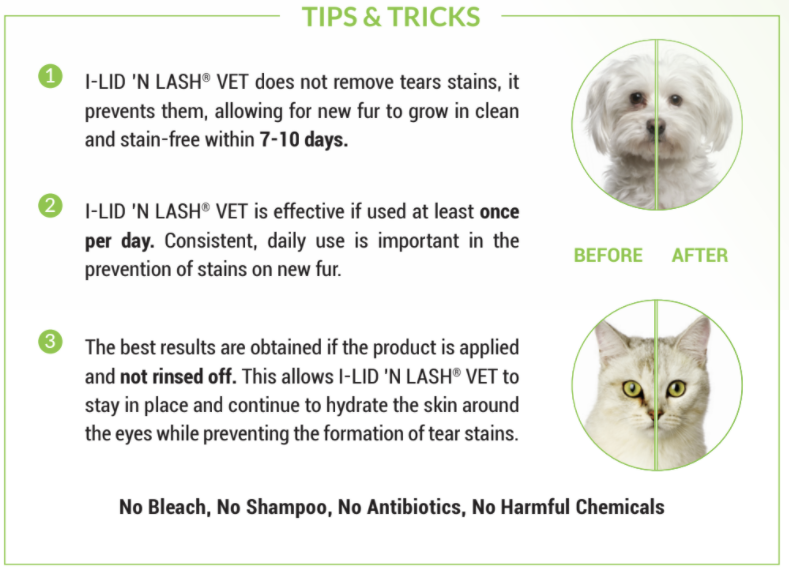 I-LID 'N LASH VET Ingredients:
water, poloxamer, polyethylene glycol, borate, hyaluronan, carbopol 940, methylparaben
Review Summary
8 total reviews
Rated 4.50 out of 5 stars
100% of respondents would recommend this to a friend
Ratings Distribution
Reviews
Great Whitener

From Undisclosed

Comments about I-Lid 'N Lash Vet PUMP, 50mL

Lil' Ding

Great price

From Undisclosed

Comments about I-Lid 'N Lash Vet

I take my meds like a man! A small man

my toy schnauzers eyes drain with allergies

From Undisclosed

Comments about I-Lid 'N Lash Vet

This is the best product

From Undisclosed

Comments about I-Lid 'N Lash Vet

Today is our Poppeee's 5th birthday, what a sweetie!

Have used this product for years.

From Undisclosed

Comments about I-Lid 'N Lash Vet

Best eye care solution

From FL

Comments about I-Lid 'N Lash Vet

Disappointed

From undisclosed

Comments about I-Lid 'N Lash Vet

Works great

From Honolulu, HI, USA

Comments about I-Lid 'N Lash Vet

i-lid n lash

From Severna Park, MD

Comments about I-Lid 'N Lash Vet
Displaying Reviews 1 - 9
Q & A
Can it be harmful if it gets into eyes??

The i-lid 'n lash formula is designed for cleansing of eyelids, eyelashes, and facial fold around the eyes. This product does not contain antibiotics or harsh chemicals and will not sting, burn, or cause irritation to the eyes if comes in contact with them. Thank you, VetRxDirect

Verified Answer

both my cat and myself have blipheritis can I use it on both?

I-lid n' lash can be used for cats and dogs ONLY to prevent tear stains and facial fold odors. It is not recommended for human use. I-lid n' lash can be used as part of your pet's daily routine to maintain proper hygiene. Daily use can help prevent new staining from occurring or odor from developing. Blepharitis, which is the inflammation of the eyelids, can be caused by bacterial infection, allergy, congenital abnormalities and etc. I-lid n' lash therefore should not be initiated without any further information regarding your cat's condition. Typically, I-lid n' lash is not an appropriate option as monotherapy for blepharitis. Please contact your veterinarian and your medical doctor for examinations and assessment in order to determine the best medication options for your cat and yourself. Thank you, VetRxDirect

Verified Answer
Displaying Questions 1 - 2