FREE SHIPPING on all orders over $39*
SAVE 10% during Heartworm Awareness month of April with COUPON CODE*: HEARTWORM10
True-Dose Liquid Supplements for Pets - Accurate Dosing Every Time
True-Dose is an innovative new line of liquid pet supplements made with high-quality, natural ingredients to bring a new level of excellence to the pet community. Quality, accuracy, and efficacy are the pillars of True-Dose. Human-grade ingredients along with an easy means of administration lead to visible results to improve the health of your pets. True-Dose provides this higher quality at a lower cost-per-day than tablets or chewables. The key elements that set True-Dose ahead of the other offerings in this category include:
True-Dose products are made in American in human pharmaceutical facilities and are held to FDA standards, the same as human pharmaceuticals.
True-Dose is dispensed through a metered-dose pump, guaranteeing that dosing is accurate and convenient.
As opposed to other forms of supplements, the liquid formula is easily and quickly absorbed into the pet's system to ensure efficacy and results.
True-dose eliminates the challenges associated with struggling to get your dog or cat to take a tablet every day.
Easy to use by pumping on pets' food and palatability studies prove that it tastes great and pets will gladly consume it every day.
True-Dose Joint Care for dogs and cats
Our True-Dose Joint Care product's ingredients include high-quality glucosamine, chondroitin and MSM.
Within 7 days of consistent use, pet owners should notice signs of symptom relieve and improvement in their pet.
If no results are seen within 7 days, the pet is likely a non-responder to glucosamine or chondroitin. We can say this because the proven absorption and measured circulation in the pets' systems will produce anti-inflammatory or analgesic results within this period of time.
Joint issues are common and probable in both dogs and cats as they age, and visible symptoms of poor joint health become more noticeable with time.
By adding True-Dose Joint Care to the daily routine of their cat or dog, pet owners prevent, relieve, and even eliminate symptoms of poor joint health and help to restore their pet to a healthier, active lifestyle.
True-Dose Agility for dogs and cats
True-Dose Agility product is comprised of glucosamine, chondroitin, MSM, Omegas 3&6 and other vital vitamins.
Agility improves joint health in active pets and increases cell regeneration to prevent harmful effects of wearing.
This product is ideal for pets who are active outdoors or participate in sport or game. The formulation of the product is designed to help treat the effects of excessive pressure on the joints, tendons and ligaments that results as a side effect of regular vigorous activity.
Continuous use of True-Dose Agility will help prolong a pet's ability to engage in such activity and help to maintain physical health and endurance.
True-Dose Skin & Coat for dogs and cats
True-Dose Skin and Coat consists of human grade ingredients including fish oils, biotin, and Vitamins A & E.
Use for Skin and Coat issues such as allergies, dandruff, hair loss, and overall poor condition effect both cats and dogs. These issues can be very uncomfortable for the pet, and also cause problems for the pet owner.
Our Skin & Coat product is meant to restore and maintain a healthy skin and coat in pets to relieve suffering and to promote and ensure a healthy coat.
True-Dose Wellness for dogs
True-Dose Wellness is comprised of high-quality vitamin C and A combination of anti-oxidants to improve health in the pet's immune system.
This product is comparable to a human's daily multi-vitamin in that it is meant to provide support and balance for bodily systems.
It is important to take daily measures to preserve your pet's overall health and to prevent the negative effects of environmental factors and illness over time.
True-Dose Calming for dogs and cats
True-Dose Calming is an effective, natural way to relieve your pet's anxiety caused by stressors such as thunderstorms, fireworks, grooming, and separation.
The ingredients in True-Dose Calming, including chamomile, valerian, ginger, and tryptophan, work quickly within thirty minutes to restore your pet's natural state of calm.
The easy administration of our natural product has been a highly popular solution for pet owners looking for a safer alternative to relieve their pet's stress.
True-Dose Agility for Dogs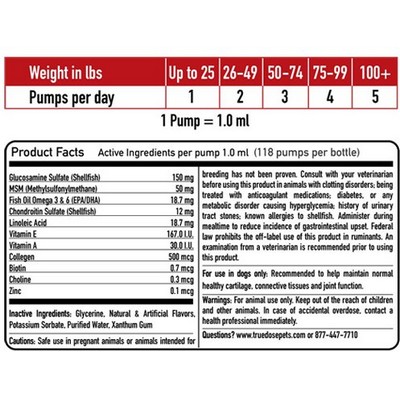 True-Dose Calming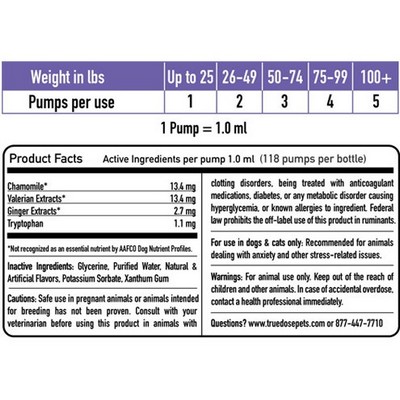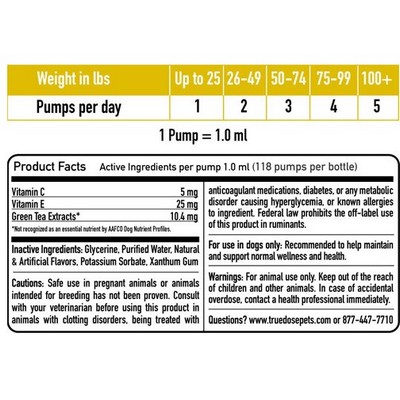 True-Dose Joint Care For Dogs Under 50lbs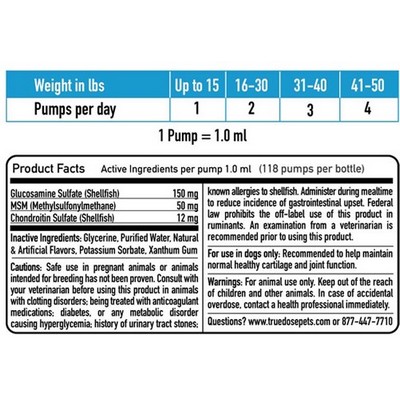 True-Dose Joint Care For Dogs Over 50lbs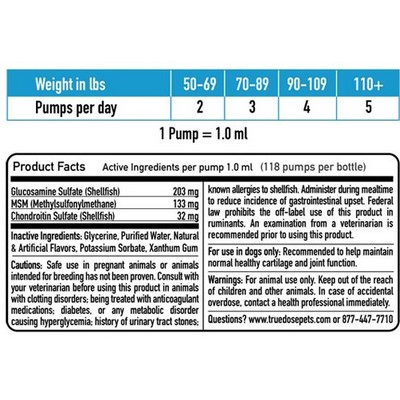 True-Dose Skin and Coat for Dogs
True-Dose Skin and Coat for Cats