Felimazole
If your cat has an overactive thyroid gland, your veterinarian may prescribe FDA-veterinary approved Felimazole to help stabilize your cat's condition. While Felimazole can't stop the condition, it will help your cat feel better and improve her quality of life
Manages symptoms of hyperthyroidism in cats
FDA approved
Small, coated tablets for easy dosing
Hyperthyroidism, or overactive thyroid, in cats causes weight loss, increased appetite, excessive thirst, hair loss, and more. While there is no permanent treatment for hyperthyroidism, your veterinarian can help your cat feel better by regulating the thyroid with prescription Felimazole. The active ingredient in each small, coated pill is methimazole, which reduces the amount of the thyroid hormone your cat's thyroid gland produces. The result is a healthier cat and a better quality of life.
What you should know about Felimazole
Talk to your veterinarian before using this product.
Wash your hands with soap and water after giving this product.
Follow dosing directions exactly - don't give your pet more medication than directed and don't skip doses.
Read the label carefully for information about storage, possible side effects, and drug interactions.
Coated Tablet Pictures: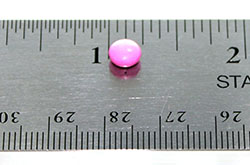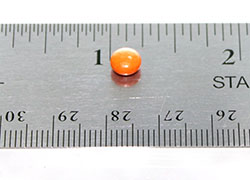 Felimazole 2.5mg Tablet Picture Felimazole 5mg Tablet Picture
For additional information about Felimazole, click the "More Information" and "Package Insert" tabs above.
You can find a Client Information Sheet which provides a summary of information about Felimazole (methimazole) by following the link below:
Felimazole Client Information Sheet*
If you have questions or concerns about Felimazole, or conditions related to its use, contact your pet's veterinarian or pharmacist.
*This link opens in a new window.
You can find a package insert which provides more detailed information on Felimazole (methimazole) Tablets's ndications, forms of administration, and side effects, along with other clinical information, by following the link below:
Felimazole' package insert does not take the place of instructions from your veterinarian. Talk to your veterinarian if you do not understand the information provided in this document or if you have any questions about Felimazole (methimazole) tablet for the treatment of hyperthyroidism in cats.
*This link opens in a new window.
Ask us a question about this product!
VetRxDirect's professional staff will provide answers to any relevant questions about this product. Specific questions related to dosages and recommendations are best answered by your pet's veterinarian.

Click here to ask a question
cat throwing up
would this med make my kitty throw up allot ?
Laurie,
Adverse events attributed to methimazole commonly occur within the first few months of therapy and include vomiting, lack of appetite, and depression/lethargy as seen most often. Gastrointestinal effects occur in about 10% of cats treated with methimazole. If vomiting continues to be a problem, speak with your veterinarian on possible adjustments for your cat to better tolerate methimazole.
Thank you,
VetRxDirect
Felimazole pills
If the pill is put in the cat"s food (she is not fooled by the pill pockets, is the medication rendered ineffective if is dissolves in the food?
Bertrice,
There would be no way to determine the shelf-life or stability of the active ingredient, methimazole, if it were to be placed in your animal's food. Methimazole is a bitter drug and if the tablet was crushed and placed in your cat's food she may not eat all of it. The amount of medication taken would then be difficult to determine. Please share your troubles pilling your cat with your cat's veterinarian. The veterinarian may be able to help you with techniques on pilling your cat or other administration options for methimazole.
Thank you,
VetRxDirect
Can I split the tablets?
Can you halve a felimazole tablet or does it just break into a bunch of pieces and if you do halve it, will it be less effective?
Terri,
Felimazole can be halved and breaks cleanly, however the coating on the tablet is covering a bitter taste, and cats may be less likely to take the pill because of the taste. There is also the concern of being exposed to the medication, so, as with any medication, proper precautions should be taken when handling the tablets. The medication is not less effective when split, as long as it is split evenly.
Thank you,
VetRxDirect
Felimazole
Can you ship this product in France as the product is more than twice as expensive in our country Thank you
We're sorry, but VetRxDirect does not ship outside the U.S.
Thank you,
VetRxDirect
what does tablet look like?
can you show a picture of the tablet and describe the coating? What is tablet size?
Liz,
Felimazole tablet pictures can now be found under the 'Description' tab above. Each tablet is 5mm in diameter.
Felimazole tablets are sugar coated to mask the taste of methimazole.
Thank you,
VetRxDirect